Our successes giving children access to books and education is thanks entirely to people like you. When you click and view sponsor ads, purchase from our store, or make a direct donation to one of the many wonderful programs we highlight and support, you produce results like these. Thank you helping support literacy and education for everyone!
---
Book Donations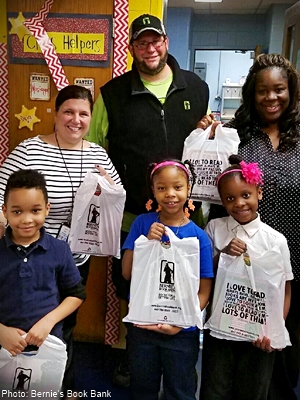 Giving children books of their own is one of the most important things we can do to ensure that children become literate and enjoy reading. Those books become treasures, paper friends to engage with, especially after school and over the summer. A recent study shows that the number of print books in a child's home directly impacts their academic performance.
How do we get books to children in need?
There are programs across the nation committed to child literacy, and we directly support their work giving children books. Bernie's Book Bank is one.
Bernie's Book Bank combines new books from publishers with their own gently used books to provide six good-quality books to each child at a book distribution. In the Chicagoland area, they distributed twice to over two thousand children at risk. That's twelve books for each child! They report:
"The children we serve are grateful they receive books to OWN and don't have to return to school or the library. We not only give them a tool to improve their reading, and their lives, we give them the confidence of ownership and the responsibility of taking care of books that are theirs. They take this responsibility seriously and appreciate the confidence we have in them. We receive thank-you letters nearly daily from the children we serve. Having both new and gently-used books provides a nice variety of books for the children." They get amazing thank-you notes from the kids, like the one below.
"Dear Bernies Bank,
Thank you very much for the amazing books you gave us. With the books, I am going to read them with my brother, and I'm also going to use the books for my reading logs. If I finish the books, I could give it to my cousins and they might give it to other people too, or I could save them up for my own children when I grow up.
Thank you very much again,
Dominic
Do more to help book donation programs like Bernie's Book Bank, and other programs supported by GreaterGood and The Literacy Site!
Click here »
---
Getting Afghan Girls to School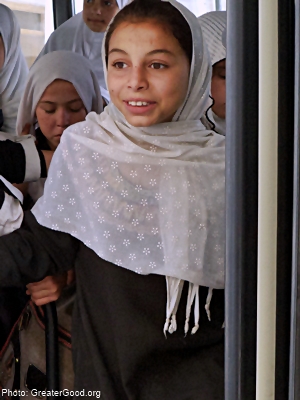 For some girls in Afghanistan, getting to and from school is a frightening ordeal filled with very real danger. Multiple girls trying to reach Mirwais Mena high school on foot have been harassed by men along the way. Some were even attacked by men who sprayed acid at them, a method of assault that is intended to deter girls from getting an education that has been widely covered by the news.
Can we stop these terrifying attacks?
Absolutely. Purchasing school buses, funding pay for good drivers, and buying fuel keeps these girls safe from daily harassment on foot. Girls like Shamisa.
Shamisa and her friends were walking to school when they were targeted. The attackers saw that they were female and wearing school uniforms, and they rode up on motorbikes and sprayed the girls with acid. Today, she still suffers from that acid attack; her eyes spontaneously tear up and itch. But she fought back by completing her education, and now she's a teacher at the same school.
But the danger persists today. As many as 200 girls have been pulled from their classrooms by their parents, who fear for their safety and their lives. These girls have a right to a good education, and shouldn't be prevented from going to school. So, with your help, we've purchased buses, and paid for drivers, maintenance, and fuel. Shamsia says:
"If we had the Safe Ride to School Program in 2008, I would not have been attacked on a dirty street when I was coming to school. This bus is useful. It protects girls from similar attacks."
Do more to help the Mirwais Mena school, and other programs supported by GreaterGood and The Literacy Site!
Click here »