Call on Turkey's Leadership to End Media Censorship
7,208 signatures toward our 15,000 Goal
Sponsor: The Literacy Site
The Turkish government imprisons more journalists than any other nation.
---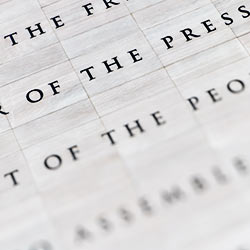 According to a recent report by the Committee to Protect Journalists, Turkey faces a "press freedom crisis." Using a combination of ambiguous and antiquated laws to silence media critical of the government in Ankara, journalists are imprisoned as terrorists, and their work dismissed as enemy propaganda. Those fortunate enough to avoid incarceration still face the threat of legal repercussions for publishing dissenting opinions or critical analysis.
Consequently, an atmosphere of fear and self-censorship prevails among Turkey's journalists. In one prominent case, authorities detained Soner Yalçin, owner of the critical Oda TV, and several of his colleagues. Nearly two years later, he continues to sit in an isolated cell while the legal proceedings drag on without end.
Call for the release of Turkey's imprisoned journalists and new laws that codify the principles of a free press, putting an end to this de facto brand of state censorship.
To Top
The Petition:
Dear Prime Minister Recep Tayyip Erdoğan:
The world watched as your government imprisoned Soner Yalçin and several of his colleagues in February 2011, adding to the growing list of incarcerated journalists in Turkey's prisons. As a regional model for democracy, your government should neither condone nor facilitate the suppression of free expression. The time has come to reverse course and protect journalists, even those who disagree with your policies.
The Committee to Protect Journalist's (CPJ) recent report paints a dire picture, labeling the situation in Turkey as a "press freedom crisis." Among the most unnerving statistics:
Turkish prisons hold 76 journalists, at least 61 detained in direct relation to their work.
More than three-quarters have been held prior to any conviction.
Turkey imprisons more journalists than the repressive regimes of Iran and China.
The only regime to do worse? Turkey (in 1996 when authorities detained 78 journalists).
Other independent, non-governmental organizations observe a similar trend. In a ranking of press freedom published each year by Reporters Sans Frontiers, Turkey dropped ten places to number 148 due to "a wave of arrests of journalists that was without precedent since the military dictatorship." Turkey also lost points according to Freedom House's annual assessment, citing a "continued crack down on unfavorable press coverage."
Turkey faces legitimate threats to law and order, but this must not be used as a pretext for censorship. It is a false dichotomy that suggests society must trade civil liberties for physical security. Accede to the wishes of your constituents, of the international community, and of a free and open society:
Publicly promote a free press as essential to a democratic Turkey and cease the use of "defamation complaints" to vilify critical journalists.
Reform archaic and ambiguous laws, particularly Articles 301 and 216 of the penal code as well as the Law on the Fight against Terrorism, used to depict dissent as a threat to national security.
Loosen restrictions imposed on Internet by Law 5651, providing access and oversight and in line with the standards of the international community.
And finally, Prime Minister, free your imprisoned journalists, those such as Mr. Yalçin, who have been detained for prolonged periods while awaiting trial in a hostile courtroom based on only the most tenuous of evidence.